On July 1, the U.S. Highbush Blueberry Council (USHBC) held a China market 2022 pre-season webinar to introduce representatives from the Chinese fresh fruit industry to U.S. highbush blueberries and provide an overview of the ongoing U.S. blueberry season. The webinar, moderated by Renata Dalton, the USHBC's director of global business development, featured presentations by Kasey Cronquist and Dr. Leslie Wada, the organization's president and senior director of nutrition and health research, respectively. Representatives from blueberry exporters in the Western United States and Chinese fruit importers, distributors and retailers were in attendance.
OVERVIEW OF U.S. BLUEBERRY PRODUCTION AND BLUEBERRY NUTRITION
In his introduction to the 2022 U.S. fresh blueberry season, Cronquist noted that half of U.S. annual output is sold as fresh blueberries, while the other half is used for processing into various blueberry products. According to Cronquist, the USHBC is dedicated to promoting all forms of blueberry products. These include fresh blueberries, frozen blueberries, dried blueberries, freeze-dried blueberries, blueberry juices, juice concentrates, blueberry powders and canned products.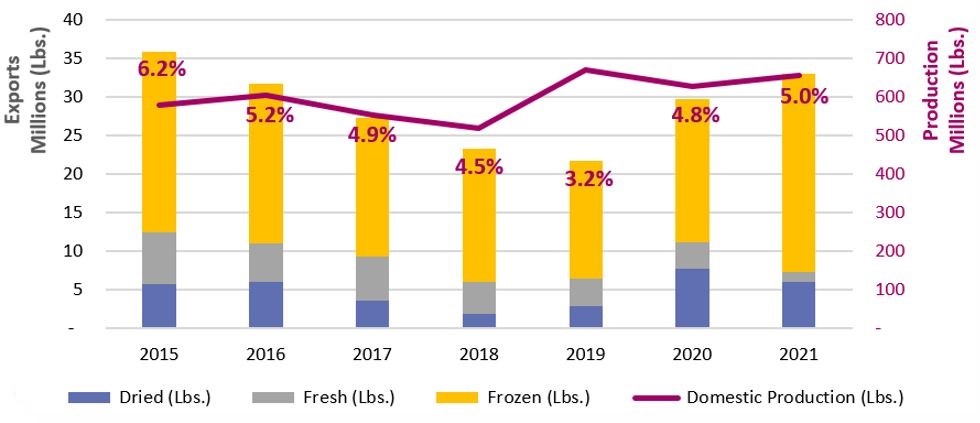 The United States is the world's largest blueberry producer, with much of the crop grown in the Pacific Northwest and the Southeastern United States. The U.S. blueberry harvest lasts from approximately March to October. According to the latest USHBC forecast, U.S. blueberry production in 2022 is expected to reach 725.2 million pounds, or 328,940 metric tons, representing an increase of 10.4% from the 656.6 million pounds (297,830 metric tons) recorded in 2021.
Dr. Wada presented during the webinar on the nutritional value of blueberries and various research findings concerning blueberries and human health. Blueberries are not only a highly nutritious and convenient snack but also have a wide range of potential health benefits encompassing cardiovascular, brain and gut health, as well as insulin response.
U.S. BLUEBERRY EXPORTS
Owing to the huge domestic blueberry market in the United States, only about 5% of the total U.S. output of blueberries is exported each year, the majority of which is frozen blueberries. However, the USHBC forecasts that U.S. blueberry exports will double by 2025 to reach 10% of total production. In particular, China's imports of U.S. blueberries tripled from 2020 through 2021. While much of the growth in exports to China has been in frozen blueberries, fresh blueberries are also a growing and promising new export product for China, which has been open to fresh U.S. blueberries since 2020.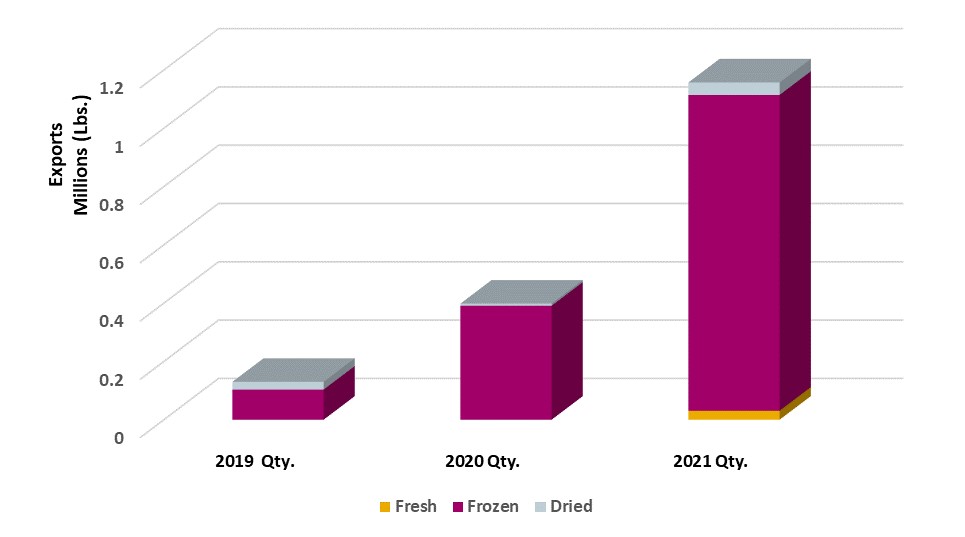 U.S. BLUEBERRY EXPORTS TO CHINA CONTINUE TO INCREASE
The webinar continued with a panel discussion among exporters and importers. Joining the discussion were Brian Vertrees, director of business development for Naturipe Farms; Jeff Webb, director of international business development for Domex Superfresh Growers; Terry Fasel, director of international sales for Oregon Berry Packing; and Harlan Xiao, import fruit purchaser for Pagoda, China's largest fruit shop chain.
The three U.S. companies are from California, Washington and Oregon — major blueberry states that account for more than half of total U.S. production. Currently, fresh blueberries exported to China primarily originate from Oregon and Washington. Xiao shared Pagoda's experience in successfully importing U.S. blueberries last year and discussed the importance of ensuring that blueberries imported into China are fresh, flavorful and firm.
Although the 2022 U.S. blueberry harvest is running later than normal because of cool conditions this spring in the Southeastern United States and Pacific Northwest, this season's first exports of fresh U.S. blueberries to China are nevertheless expected to be sent soon.
Cronquist wrapped up the meeting by reiterating the USHBC's strategic vision to "work together toward making blueberries the world's favorite fruit" and a resounding "go blueberry!"
17/07/2022