As an increasing number of countries have been permitted to export blueberries to China, this fruit has become available to Chinese consumers all year round.
Canadian blueberries, which gained market access to China in June 2015 and staged their market debut in August 2015, have been trying to expand their market share in China.
Each year, a considerable number of fresh blueberries, frozen blueberries and dried blueberries from Canada are brought to China even though there has not yet been any large-scale marketing campaign for these products in China.
Nearly 100% of Canadian highbush blueberries available on the Chinese market originate from British Columbia, which is the third-largest province in the country with an area approximately four times the size of the United Kingdom. Furthermore, the province is one of the world's three key blueberry and cranberry growing regions. Approximately two-thirds of the land area in British Columbia is forest, alongside clear water, fresh air, rich soil and cool weather, providing ideal growing conditions for highbush blueberries.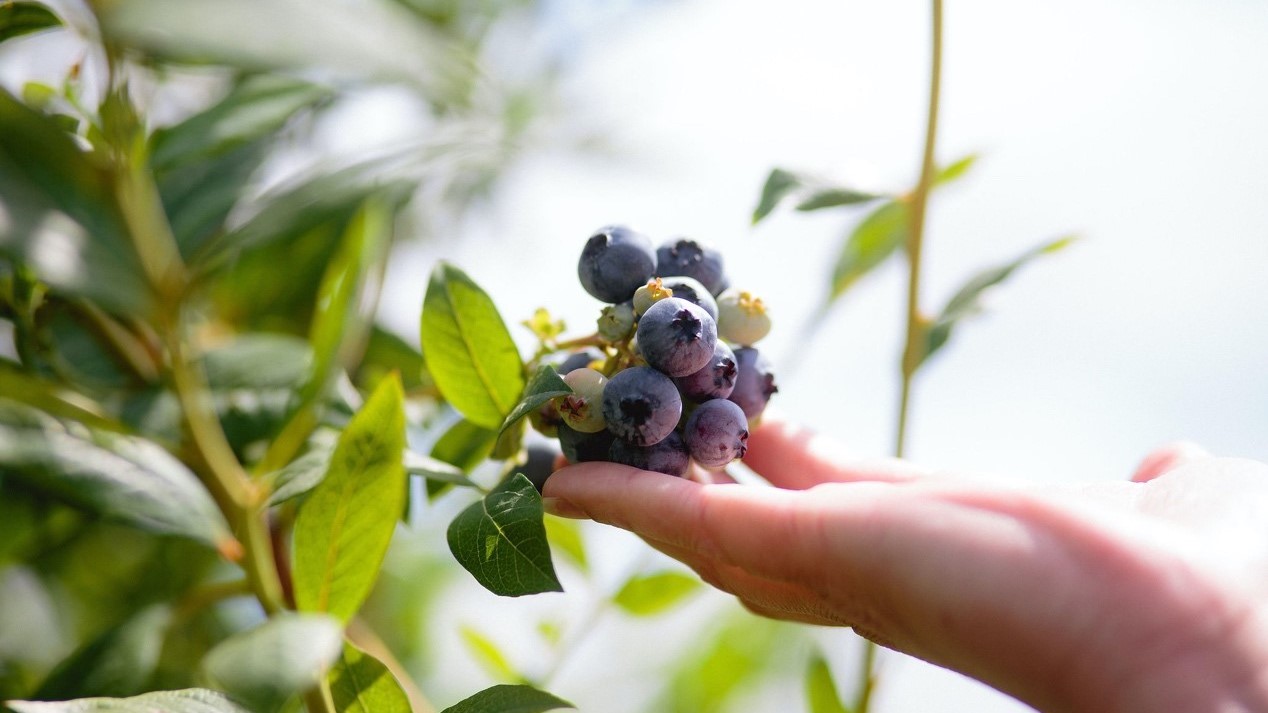 For a first-hand account of blueberry production in British Columbia, Produce Report reached out to Clara Moran, the marketing and public relations coordinator at the British Columbia Blueberry Council.
According to Moran, the history of highbush blueberry cultivation in British Columbia dates back nearly 100 years. The province currently has a planted area of around 11,000 hectares with an estimated crop of 63,500 metric tons for 2021. Moreover, all blueberries produced in the province are food safety certified.
There is also a rich variety of blueberry cultivars in British Columbia, which hit the market one after another during a period typically running from July to September. The main cultivars there include Earliblue, Northland and Chandler, while cultivars such as Duke, Draper and Calypso are especially favored by Asian consumers. Meanwhile, Canada has been developing new blueberry varieties that have a better taste and superior quality on the one hand and are more resistant to cold weather, plant diseases and insect pests on the other hand.
To gain an insight into the performance of Canadian blueberries on the Chinese market, Produce Report also contacted Max Shao, a major exporter and dealer of Canadian blueberries. According to Shao, blueberries from British Columbia are known for their large size, sweet taste, strong fragrance, juicy flesh and rich anthocyanin content. Local blueberry farmers take special care in cultivating blueberries, including using bees for pollination and conducting very little manual intervention during the growth process.
However, a limited capacity for post-harvest processing has somewhat hindered the ability of blueberries from British Columbia to reach overseas markets. Prior to the outbreak of the COVID-19 pandemic, Shao's company typically exported 10–15 pallets of Canadian blueberries to China each week. Most of these blueberries were pre-booked by customers who had previously lived in Canada, with only a small portion destined for wholesale markets.
Because the quality of blueberries is heavily reliant on cold chain logistics, many companies have suspended their imports of blueberries owing to the impact of the ongoing COVID-19 epidemic on global supply chains. However, Shao suggests that Canadian blueberries can still be an ideal option for high-end Chinese consumers who always pursue the highest quality.
16/12/2021