On Nov. 12, this season's first container of Chilean blueberries to reach China by sea arrived in Shanghai. This shipment of Giddings blueberries was imported by Pengsheng Industrial, one of China's leading importers of blueberries, which has so far imported and sold over 100 containers of blueberries this season. The arrival of this batch marks the end of air shipments by Giddings and the start of sea shipments to meet the demand of Chinese consumers for Chilean blueberries.
The two companies have been operating a business model that aims to use airfreight to position the brand with Chinese consumers until sea shipments arrive on the market. Up until now, the fruit arriving by air was predominantly sold at premium retail outlets such as Olé, City'super and Rain Dew at prices of up to 35 Chinese yuan per box.
According to Sebastian Deng, partner at Pengsheng Industrial in Shanghai, "Pengsheng and Giddings have been working together for many years now. Our relationship has been strengthening and our business has come together toward a path of mutual trust and mutual development. This year we conducted several weeks of air shipments from Giddings with excellent results, representing the first Chilean program by air this season, until today when we received our first ocean container."
The container of blueberries from Giddings was a special variety originating from Australia that is characterized by a large size and sweet flavor. According to Gonzalo Matamala, Giddings Fruit's general manager for Asia and China, "We believe that the fruit will receive positive feedback in the market due to its flavor. Moreover, we have started seeing an upward trend in the prices of blueberries on the Chinese market, owing to the lower volumes, so this fruit has arrived at the perfect moment."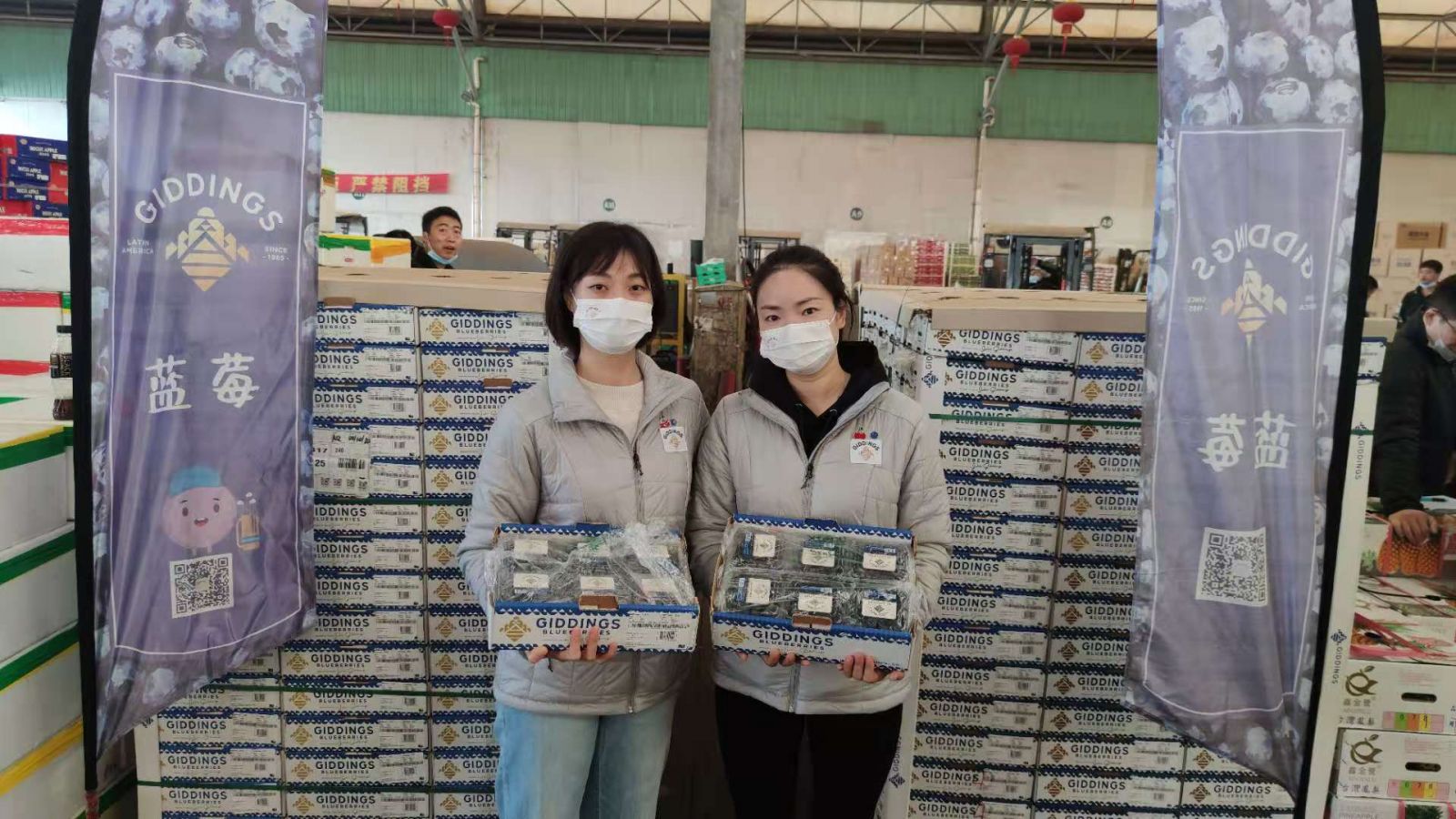 The blueberry situation on the market is currently exhibiting favorable signs of recovery from previous weeks, which saw unusually low prices owing to the large volume of fruit from Peru and unsatisfactory sweetness, especially prior to the 11.11 shopping day, which allowed existing stocks of fruit to be cleared out with a positive impact on market prices.
Although the U.S. continues to be the main destination market for Chilean blueberry exporters, last season Asia and Europe displayed growth of 20% and 8%, respectively. Consequently, Chilean exporters are looking forward to diversifying their exports and Asian markets represent an increasingly attractive destination for premium fruits such as blueberries. Forecasts for the current season indicate that Chilean blueberry production will see a slight increase in volume of approximately 2% relative to last season, with an expected total of 155,000 tons.
With respect to the ongoing COVID-19 pandemic, Chilean exporters have worked closely with Chilean and Chinese authorities to establish strict safety protocols to protect workers at orchards, packing houses and offices and ensure that fruit packaging is free of traces of the SARS-CoV-2 virus. In this regard, it is important to note that no trace of the virus has been detected on fruit exported from Chile since the start of the pandemic. According to Matamala, "customers in China can trust that we are implementing comprehensive efforts to provide the safest fruits to your homes."
One such step taken by Pengsheng and Giddings to assure quality from origin to destination has been providing masks to their sellers within local markets.