Joint venture to grow blueberries in India proves successful, despite three years of challenging conditions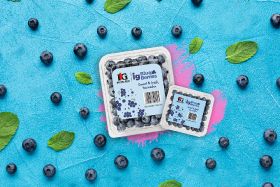 Leading Indian fresh fruit importer and producer, IG International, has completed the first full harvest of its blueberry crop, which is a joint venture with MBO and Mano Babiolakis, with supervision provided by an Australian team. 
The joint venture was initiated in 2017 with the thought of producing 'the finest blueberries for Indian consumers, grown on Indian soil.' But it hasn't been all smooth sailing, with IG highlighting the relentless challlenges of India's climate proving difficult to navigate.
In a release, IG said the project represents the first of such scale in India, and the company believes it has the potential to revolutionise the country's fresh produce import landscape.
Harvest runs from February to May which IG sees as a strategic window of time between the end of Chile's season and the start of Northern Hemisphere supply.
The fruit is 20mm in size and said to be both sweet and crunchy. Nutritional value and associated health benefits with consumption of blueberries is expected to prove popular among consumers in India's urban metro population.
"The quality, pricing and viability of berries is unmatched, and we are confident about competing with the global berry world to secure our position in Asia's top five berry producers by 2024," said director of IG, Tarun Arora.
27/05/2020